Which are the best fishing app for your smartphone?

By now technology and digitalization have taken over in many areas of our life, including the world linked to sport fishing.
Being able to have all the information at hand thanks to a smartphone has certainly made life easier for many fishermen.
Once, to find the spots where to go fishing, we relied on dedicated magazines or television programs, we went in exploration or with a word of mouth among fishermen of a small circle.
Now this is no longer the case or, at least, they are no longer the only possibilities and above all the most profitable.
One of the best fishing apps, useful for finding new spots, is certainly Google Maps or similar applications dedicated to navigating the area detailed enough to show even minor waterways.
What can be done with these navigation apps?
As already mentioned, it is possible to find spots by moving with the cursor looking comfortably from home, perhaps the day before going fishing, a good place to go and try, for example some curves or deaths of a river, an enlargement where it is usually possible. form a hole with good quantities of fish, some lost quarry in the woods that without seeing it first from the satellite probably would not even be found or simply to look for small lakes for sport fishing with maybe some information.
A great advantage not to be underestimated for those who fish a lot at streetfishing is the possibility of seeing spots with streetview that allows you to have a 360 ° knowledge without having ever been there before so that you can evaluate all the details first and get prepared (for example in in the case of a very high shore, a landing net with a longer handle would be needed than perhaps many other spots where you don't even need to sail the fish).
Once you have found spots, have been there in person and maybe have captured or in any case be interested in returning, you can save them with pins that can be private or in the public domain so as not to have to search for them every time to return but it will be sufficient to search for the name with which they were saved.
Last but not least, in the case of spots in the midst of very dense vegetation or areas where it is difficult to orient yourself thanks to the GPS you can easily find your way home!
And what to do once you find a good spot and maybe have captured and photographed a nice fish?
Whether you are a very social fisherman or not, one of the best fishing app that cannot be missing in the smartphones of a self-respecting fisherman is Wild Society App!
What can this app do in addition to those already listed relating to Gps Navigation apps?
It is possible to register and then publicly post your catches by entering the date and time, spots where they were captured, equipment used, what species it is, various measures, in what quantities were captured, if they were released and more!
In short, Wild Society is one of the best fishing app because using it diligently it becomes a sort of personal diary that collects all the statistics of catches, equipment and spots to be able to compare them with other users.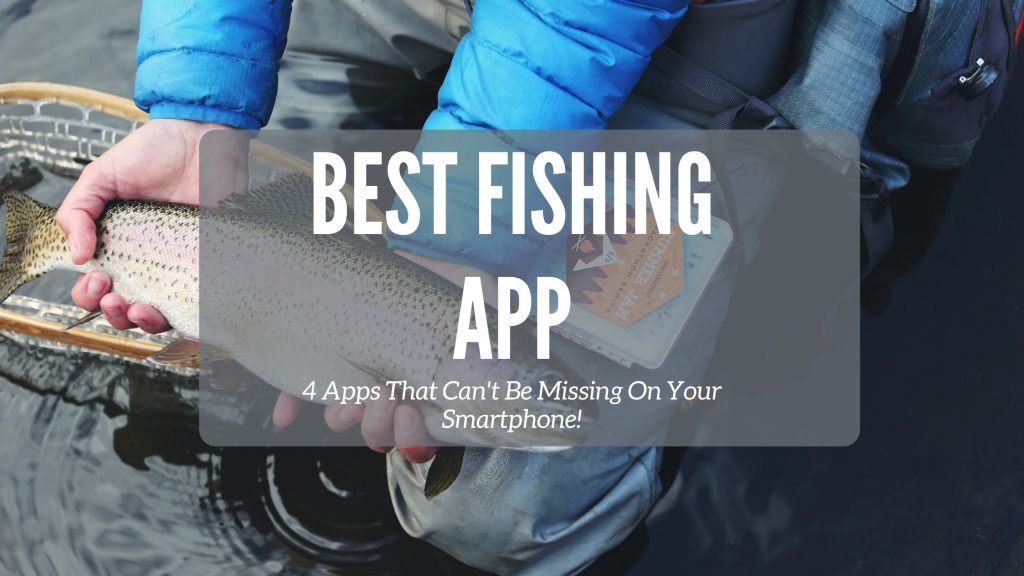 Is not sufficient?
Of course!
Not one of the best fishing apps for nothing!
Wild Society boasts a rich community of fishermen, hunters and more where it is possible to scab messages and get to know a lot of useful information to go fishing even outside their own areas with users known through apps called local hero.
In addition to the home, it is possible to join or found groups for a specific type of fishing so as to be able to specifically group people who are more or less competent for a specific topic so as to facilitate the search for information and help.
The online store in the app is also very useful with the possibility of buying the gear most used by users or which capture the most.
In Wild Society's revolutionary and unique map, you can search for different pins separately:
Photo catches where they are divided by flags of different colors based on whether they have been recorded as fishing, hunting or mushroom catches;
Media, nothing more than simple photos without a recorded capture;
Shops dedicated to fishing, hunting and mushroom hunting;
Services such as farms where you can buy live bait or game but also everything that can serve to have a complete fishing holiday such as fishing guides, restaurants or hotels in useful points and perhaps with the possibility of providing themselves permits in order to fishing in reserve areas;
Pin with references to rivers, lakes, canals and other waterways;
Finally the secret pins, the ones that any fisherman can add to record catches without other fishermen seeing the position.
For download Wild Society app for free CLICK HERE
And when is it not possible to go out to go fishing for long periods?
You fish with the games available in the various play stores!
Among those available for free in the stores certainly one of these deserves to be included among the best fishing apps:
A simulation game that allows you to fish in many different environments scattered around the world unlockable by leveling up, among other things, one of the last spots for those who will be able to level up a lot is even a hypothetical lake set in prehistoric times!
The beauty of fishing clash is not so much the fishing action as it is quite trivial since the launch is automatic and the fight is linked only to the recovery of the line based on the tension, but the possibility of being able to fish the species precisely where they are. in reality by earning points based on size and rarity and, by leveling up, with a little luck it is possible to unlock the baits to catch the species we want since initially you will have baits that catch randomly.
Like any self-respecting game, it is possible to challenge players all over the world in timed competitions in search of certain species chosen one for each challenger.
And for those who find themselves forced into the house without wanting to play with their smartphone?
No problem, there is another app that is always useful for an angler whether fishing or at home in case he wants to brush up or learn something new.
The fourth and last app that cannot be missing in fishermen's smartphones is Nodi di Pesca lite.
This is for sure one of the best fishing app because is a well made, simple and intuitive application that probably contains all the possible nodes, well detailed with the name, step by step procedure and with the possibility of seeing the realization in a video, so that you can practice in your free moments or learn new knots from use at fishing!
Obviously there are many other apps that could be useful to a fisherman, do you know others that you think could also be useful to other fishermen?

DOWNLOAD WILDSOCIETY APP HERE!
Write it in the comments below!
Pietro Sacchi